Hello, July! Goodbye, July! WOW what a month you guysssss.
Here's the scoop! We're engaged (!!!), I turned the big 3-0 on July 4th, we said our final goodbyes to Jake's beloved grandma, and we moved house. I *think* I'm handling all of this change fairly well although we are aiming for a spring wedding & haven't started wedding plans...LIFE, MAN! ;)
Back to the move! Jake and I have moved a total of 4 times now and I must say...we're getting pretty good at this packing thing. Three flights of narrow stairs on the west side be damned...we got everything out! We agreed that next time, though, we're hiring movers because WOW are we tired and sore. We purged 4 years worth of "stuff" that somehow always seems to accumulate and streamlined our possessions to match our new modern "loft" decor.
Our new place is located in downtown Buffalo which isn't far from where we were previously (on the West Side, right near Essex Pub) but it already has a totally different vibe. I know I'm really going to miss the walkability of living just outside the Elmwood Village but I am so excited to explore the downtown area! Even more so now that Jake and I both live AND work downtown - talk about an ideal commute! The restaurant and happy hour scene is already calling my name plus we've got a rooftop patio that I'm hoping to turn into Club Taylor (I go by Lil Fangs) most nights. Consider this your formal invitation.
My mind is racing with the potential for this space. I've been pinning like a mad woman and Jake and I have a goal to blend our two styles while keeping a cohesive feel. I tend to lean pretty heavy on an eclectic & Mid Modern Century aesthetic (give me all the plants, twinkle lights, macrame, wooden furniture, neon signs, velvet chairs, floor poufs...did I mention plants?) while Jake leans toward clean lines and a museum-like modern feel. Also, while he doesn't always display it, I make sure his handmade art is prominently hung (he always says I hang his paintings before they're finished but to me they're perfect every step of the way)!
All of that to say, we're one night in and my boho ways mayyyyy have crept their way temporarily in to the corner ;) Let's call these the "before" photos, eh?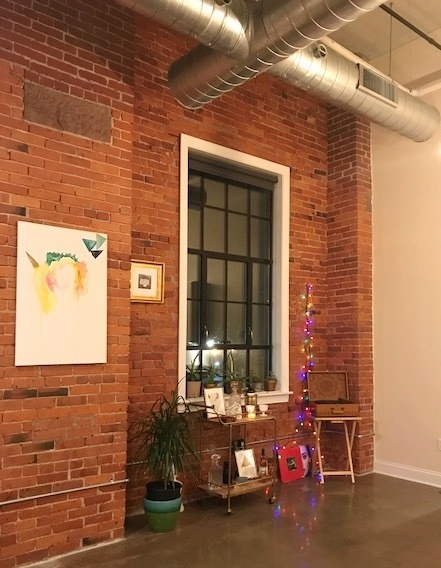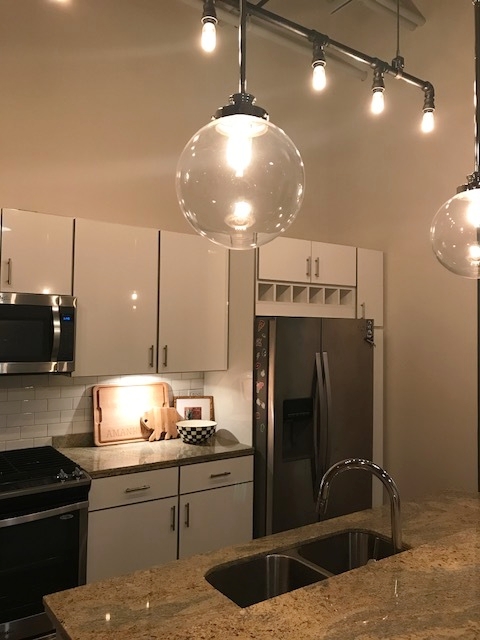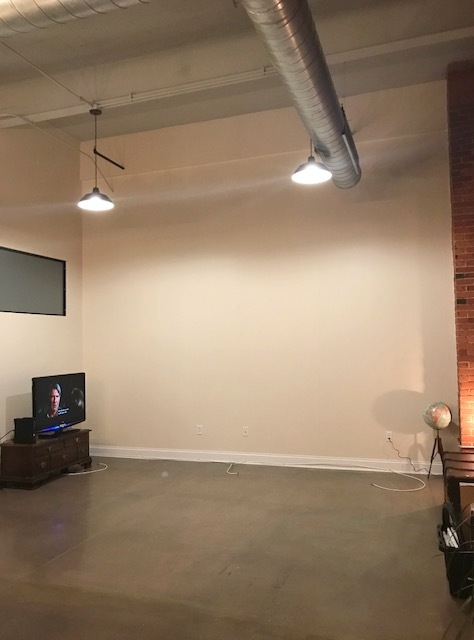 I am totally open to suggestions for this space! We're dealing with an open concept living space + 1 bedroom / 1 bath with *very* high ceilings so a gallery wall including large-scale pieces is a must. I am also determined to include as many locally made goods as I can in our new space! Buffalo has a huge creative community and I'm on the lookout for new art, furniture, beauty products, and accessories. Any suggestions? Send 'em my way!
And now...back to unpacking! Stay tuned!