In what feels like a never ending quest for my perfect skincare regimen, I came across Purity of Elements and was immediately drawn to their all-natural, earthy vibes. I snagged their Copper 5 Complex skincare line and can't wait to share my experience! No time to read my full recap? Scroll to the bottom of this post for a special 50% off offer!
First things first, some background! From the Purity of Elements website: Purity of Elements comes from the elevated deserts of Santa Fe, NM where the environment can be harsh. While the desert appears starved for hydration, beauty still thrives! They've harnessed the power of the transformative elements of the desert to deliver a hardworking, antioxidant rich skincare line that is designed to restore balance, infuse hydration and, bonus, address the key signs of aging.
So...why copper? "Copper 5 Complex™ is a proprietary blend of clinically proven ingredients that help improve the appearance of skin's radiance, luminosity, texture and smoothness while reducing the appearance of fine lines and wrinkles. Copper is required to maintain the natural processes of the body and is an essential component for collagen and elastin formation. Copper works as an antioxidant to defend the skin against free radical damage and is imperative for healthy skin. This antioxidant rich complex harnesses the science of copper gluconate to restore your natural, healthy glow."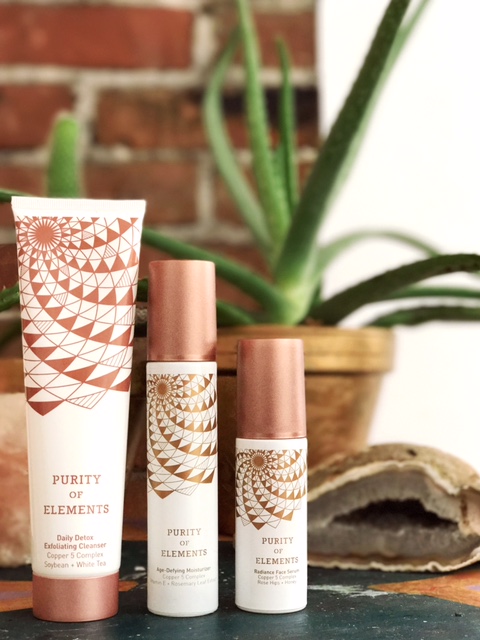 I have combination to oily skin so I am always looking for products with non-drying, exfoliating properties. In the Copper 5 Complex skincare line, the front-runner for me so far is the Daily Detox Exfoliating Cleanser. This product has gentle exfoliating properties and a fresh, natural scent. I really like that you can feel that the product is lightweight and is naturally soothing on the skin. The exfoliation isn't too harsh and leaves my skin feeling refreshed and smooth! Ingredients include white tea, jojoba oil, and the one-of-a-kind Copper 5 Complex.
Following the Daily Detox Exfoliating Cleanser, I apply the Radiance Face Serum. This is the first serum I've ever tried and I must say I am impressed! One pump covers the entire face and leaves a smooth, refined, almost blurred finish. The serum features all natural ingredients including rose hips and honey. Once the serum fully absorbs I follow up with the last step: the Age Defying Moisturizer.
The Age Defying Moisturizer is the perfect way to finish off my new skincare routine! Once I apply the moisturizer I feel an instant sense of replenishment. The formula is non-oily yet provides a dewy layer of protection that quickly absorbs into the skin. The scent is light and natural and I really enjoy knowing that the Copper 5 Complex is going to work fighting off my new "friends", fine lines and wrinkles.
Personal initial results following 2 weeks of continuous use include a decrease in the appearance of fine lines and wrinkles, especially on my forehead. Also, my skin feels nourished and smooth, but not oily! I also notice a "plumpness" especially in my cheeks and the dark circles below my eyes are slowly diminishing following use of the Radiance Face Serum. Check out some additional results, reported by users:
I've got good news for YOU! Right now Purity of Elements is offering 50% off all of their products! I'll say that again...50% OFF! Take advantage of the Spring Renewal Sale to revamp your skincare regimen using Promo Code: SPRING at checkout. Click below to start shopping!
//
I received the products featured above for free in exchange for my honest review.
All opinions are my own. For collaboration opportunities, contact me!